Published by Jesse on 30 Mar 2007
Johnny B has done it again for AltaCam! The Alta, Utah community site has launched another interview in the Alta Personalities Podcast series featuring Little Cottonwood Canyon locals, ski icons and Alta Ski Area management personnel. To wit: The interview before this one was Johnny and Onno Wieringa, The Alta Ski Area General Manager.
For those who don't know Sam Howard he's a long-time Alta ski patroller who was named one of the top 50 skiers in North America a few years ago. He's smooth as butter and a blast to try and keep up with! The young hot skiers don't have a chance keeping his pace across the High Traverse and some of the steepest lines at Alta. Here's a quote from the interview transcript:
I thought it felt weak and so we ski-cut across and we ski-cut back and it released to the ground on me. And I grabbed a tree and the whole thing peeled out around me and I was able to just hang on to that. You know, lost my ski poles and some other stuff. But, there's a lot of times when avalanches make you scared and it doesn't necessarily mean being involved in it.
You can read the transcript while you listen to the MP3 podcast of this interview at AltaCam: Sam Howard Interview & Podcast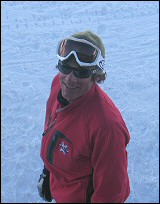 Subscribe to AltaCam's Podcast RSS feed to be notified when a new interview has been added to the site. Enjoy this interview with an Alta skiing legend!